36" Bosch French Door Refrigerator with Counter Depth Interior Water Dispenser - B36CT81ENS
36" Bosch French Door Refrigerator with Counter Depth Interior Water Dispenser - B36CT81ENS
B36CT81ENS
All-new QuickIce Pro System with the industry's fastest refrigerator ice maker.*
The innovative QuickIce Pro System combines three technologies to produce fast freshly filtered ice in your refrigerator. 1. Industry's fastest refrigerator ice maker.*2. Fresh filtered ice & water with UltraClarityPro.3. Hands-free with BottleFill.*Based on single ice maker production rates, during a 24 hour periof, measured per IEC standard and manufacturer user's manuals, for brands identified in US and Canada TraQline as freestanding French door bottom mount refrigerators.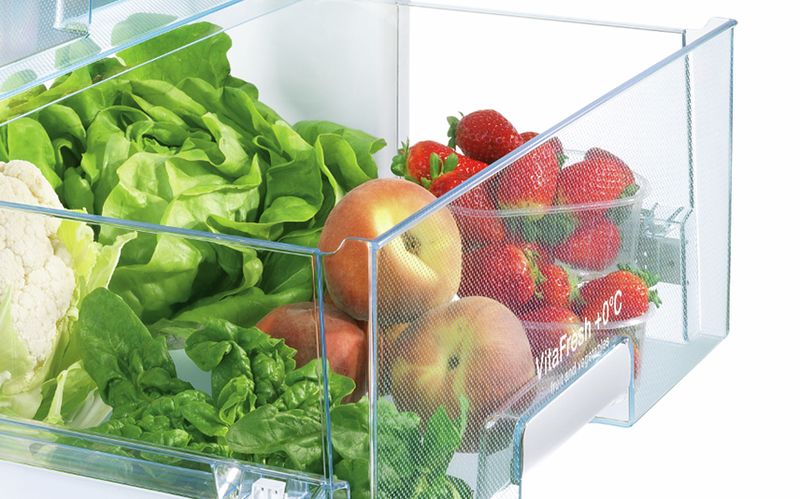 LED light: keeps the contents of your fridge in the spotlight.
LED lights bring a completely new lighting concept to fridges, guaranteeing even, glare-free interior illumination. LED lights use less electricity than conventional fridge lights and last an (appliance) lifetime.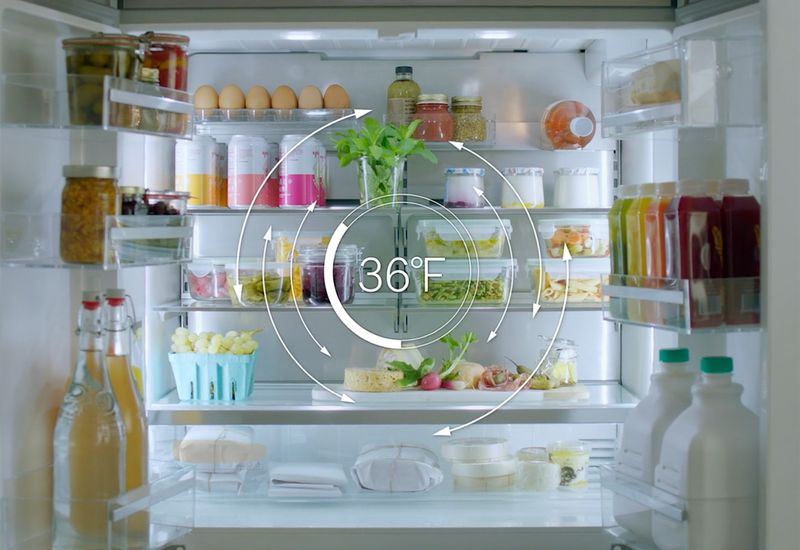 Save energy whilst you are away.
When the Holiday Mode function is activated, the temperature in the fridge section is approx. +14C and in the freezer approx. 18C, protecting frozen foods and preventing energy wastage in the fridge.

Close the door on warm air.
Opening the fridge allows warm air to enter, which can spoil the food inside. Activating the SuperCool function rapidly drops the temperature of the fridge to insulate the food inside. It also makes sure that the new purchases will be cooled more quickly. The temperature is lowered by pushing a button (36 F at the lowest). To prevent unnecessary power consumption, the function automatically switches off after approximately six hours. Supercool keeps your old and new food fresh through clever anticipation.
Intelligent Inverter Technology
We have a name for the intelligent interaction of temperature sensors, electronics and compressor: Intelligent inverter interaction technology. Temperature sensors continually monitor the temperature inside and outside the built-in fridge. Changes are immediately relayed to the electronic system to ensure that the compressor adjusts its performance according to the current situation.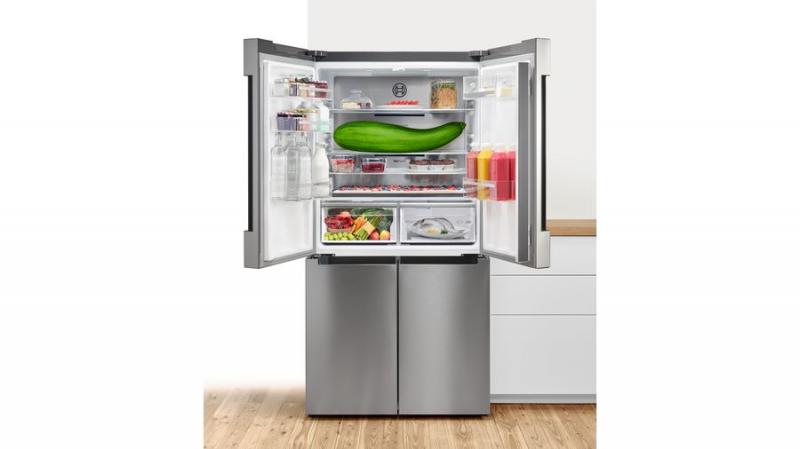 Anti-Fingerprint
Stainless steel fronts with anti-fingerprint coating are permanently surface-sealed by means of a special final treatment. This protective coating makes fingerprints much more difficult to see; the surface stays clean longer, is much more scratch-resistant and is easier to clean.
Full width chiller drawer
Store oversized platters with ease until youre ready to serve them, or store snacks for quick access and easy visibility.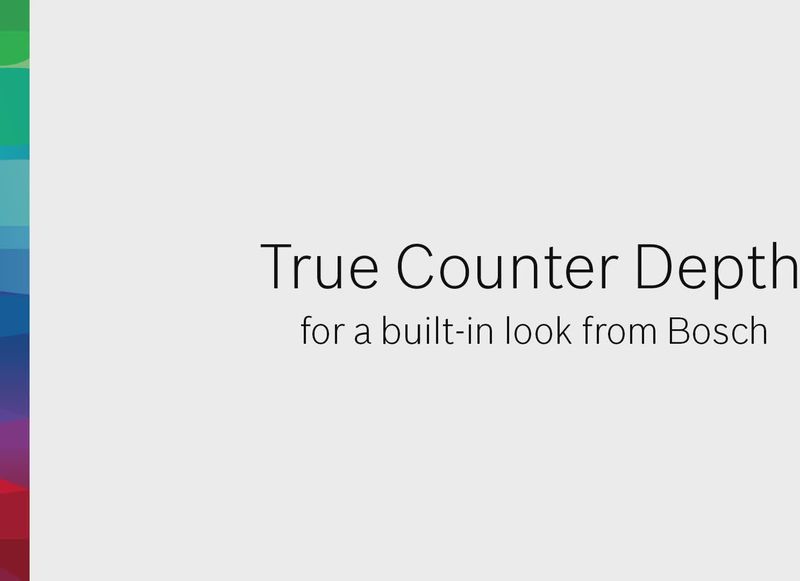 True counter-depth
This freestanding refrigerator sits flush with the countertop, features hidden hinges, and discreet tucked away feet, all to give you a true built-in look and feel.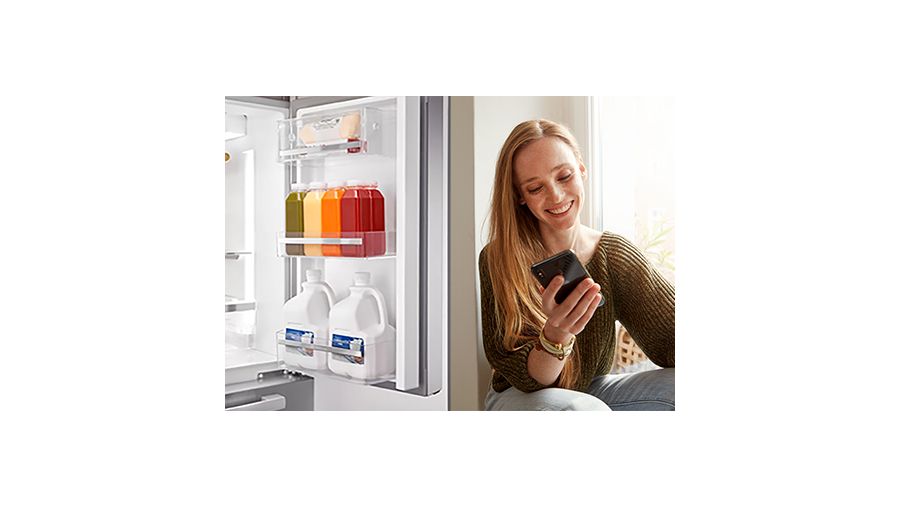 Door ajar notification
Receive a notification on your phone should you accidentally leave your refrigerator door open for an extended time.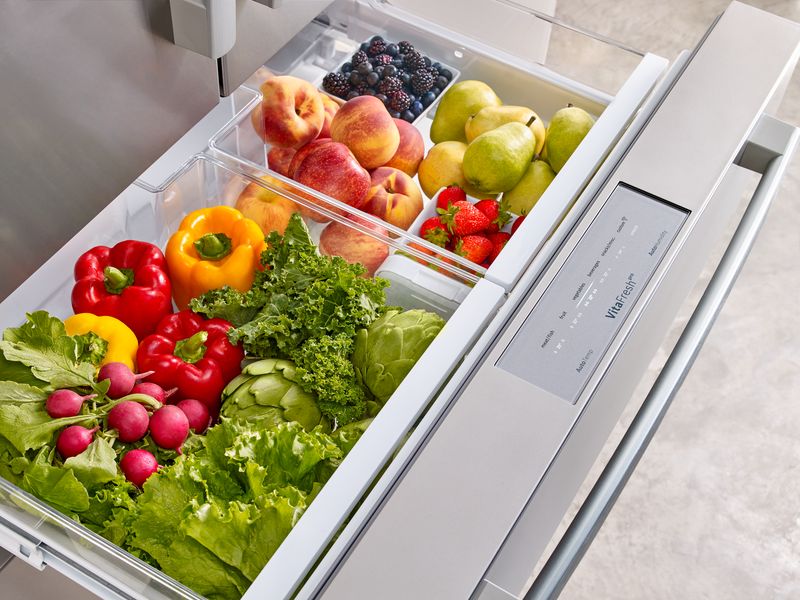 Dual compressors. Stronger performance.
Dual compressors and dual evaporators offer efficient and precise cooling and humidity control, while significantly limiting odor transfer between the refrigerator and freezer, for the optimal freshness environment.
Ice & Water Dispenser with Tap Connection:
HolidayMode:
The all-new FarmFresh System combines four innovative technologies designed to take food preservation to the next level.
SuperCooling quickly chills food and beverages with a touch of a button
Design
This freestanding refrigerator sits flush with the countertop, for a true built-in look and feel.
Interior shelves are designed with high quality glass and stainless steel.
Interior stainless steel back wall is made from the highest quality materials.
Performance
VitaFreshPro automatically balances BOTH temperature and humidity via programmed settings.
FreshProtect absorbs naturally occurring ethylene to slow ripening, so produce stays fresher longer.
AirFresh Filter and MultiAirFlow offer consistent temperature and reduced odors.
Technical Specifications
Energy Star Qualified for year round energy and money savings.
Convenience
Three separate gallon door bins can accommodate two side-by-side one-gallon containers each.
Keep your kitchen looking beautiful with an easy to clean stainless steel exterior.
SuperCool & SuperFreeze ensure new room temperature groceries chill quickly.
Capacity
Generous 21 cu. ft. capacity is even more spacious with flexible storage features like FlexBar.
Size and Weight
Net weight
322.000 lbs
Width of the product
905 mm
Appliance Width (in)
35 5/8 "
Cooling
Number of shelves in fridge compartment
4
Adjustable Shelves - Refrigerator
4
Number of Door Bins - Refrigerator
5
Freezing
Star Rating
4
Number of freezing flaps (Stck)
0
Freezing drawers (Stck)
3
Light Wattage - Freezer
LED
Comfort
VitaFresh Plus
No
VitaFresh
No
VitaFresh Pro
No
superFreezing
Yes
SuperCooling
Yes
Low frost
No
Type of bottle rack
Flexible bar
BigBox
No
easyAccess shelves
No
Basic touch control
No
VarioZone
No
Vario shelf
No
EcoMode
Yes
Connection
Watts
180 W
Comfort
Extremely quiet
No
Connection
Power cord length
240 cm
Fuse protection
10 A
Frequency
60 Hz
Plug type
120V-3 prong
Volts
110-127 V
General
Width of the product
905 mm
Appliance Width (in)
35 5/8 "
Height of the product
1,830 mm
Required cutout size (HxWxD) (in)
72 IN x 36 IN x 25 IN
Variant color
Easy Clean Stainless Steel
Silence level
40 dB(A) re 1 pW
Door hinge
Other
Shelves for Bottles
Yes
Power cord length
240 cm
Included accessories
1 x cartridge for water filtering system
Connectivity
Home Connect
Yes
Home Connect Features
iService Remote, Remote Monitoring and Control
Camera
No
Size and Weight
Depth of the product
706 mm
Depth (in)
27 13/16 "
Height of the product
1,830 mm
Required cutout size (HxWxD) (in)
72 IN x 36 IN x 25 IN
Net weight
146.1 kg