23" Bosch 6 Serie Electric Cooktop in Black Surface Mount with Frame - NET5469SC

23" Bosch 6 Serie Electric Cooktop in Black Surface Mount with Frame - NET5469SC
NET5469SC
Literature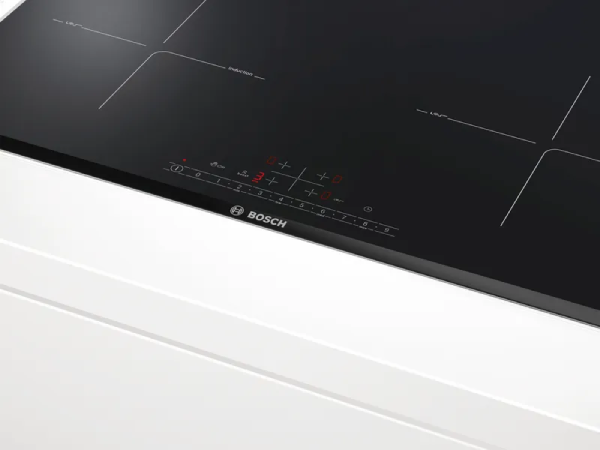 Your temperature, your way.
Juggling multiple pots and pans on different power levels can be confusing and frustrating. With PreciseSelect®, an intuitively designed control panel allows you to select the cooking zones and set the specific power level you want – quickly and easily.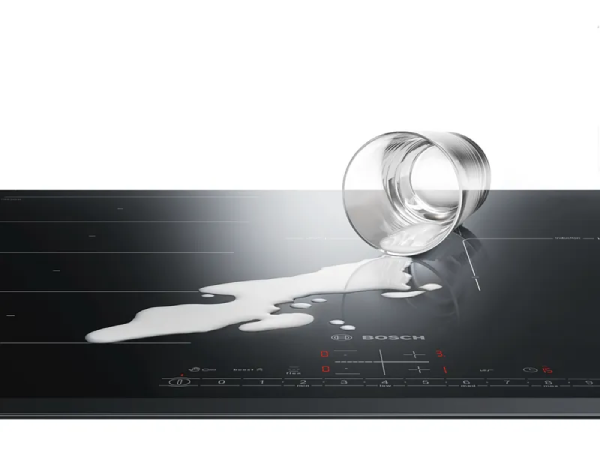 Stores your control settings.
If you turn off the cooktop it saves the last selected setting for a short time. If the cooktop is switched of within a short time again the former settings are still available.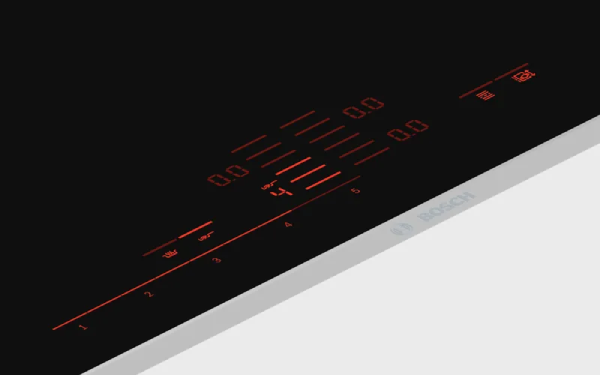 Control at your fingertip.
PreciseSelect® Premium controls on our induction and electric cooktops offer premium usability during cooking. The choice of desired cooking zones, power levels and individual functions are direct and intuitively easy together with a wider LED illuminated display. The light line on power level bar and cooking zones illuminate in a more intense way when one of them has been selected.
PreciseSelect : direct cooking level selection.
Steel frame: the flat stainless steel frame around the hob is perfect for integrating into existing countertop cutouts.
ReStart : if something boils over, the cooktop automatically turns itself off and saves the last selected setting.
Panel Lock feature locks the control panel to prevent accidental changes in settings.
PreciseSelect Premium offers 17 Power Levels for Each Cooking Zone
Design
Black-Glass Seamless Design
Cooktop Design Coordinates with Bosch Ovens and Ventilation
Performance
PreciseSelect - Direct Cooking Level Selection - 17 Settings for Precise Control
2,200W Left Rear Element for Faster Boil Times
Safety
2-Level Heat Indicator - Warns if Cooktop is Warm or Hot
ChildLock - Prevents the Cooktop from Being Accidentially Switched on. Locks Temperature Settings if in Use.
Cooking zone 9
Location of 9th heating element
front centre/cent
Cooking zone 8
Location of 8th heating element
front middle / central
Cooking zone 7
Energy consumption of 7th heating element
194.9 Wh/kg
Type of 7th heating element
Radiant heating
Power of 7th heating element (kW)
2.2 kW
Location of 7th heating element
front right
Dimension of 7th heating element (in)
8"
Dimension of 7th heating element
210 mm
Cooking zone 6
Location of 6th heating element
center right
Cooking zone 5
Energy consumption of 5th heating element
190.2 Wh/kg
Power of 5th heating element (W)
1.2 kW
Location of 5th heating element
back right
Dimension of 5th heating element (in)
6"
Dimension of 5th heating element
140 mm
Cooking zone 4
Location of 4th heating element
middle back
Cooking zone 3
Energy consumption of 3rd heating element
188.8 Wh/kg
Type of 3rd heating element
Radiant heating
Power of 3rd heating element (W)
2 kW
Location of 3rd heating element
back left
Dimension of 3rd heating element (in)
7"
Dimension of 3rd heating element
180 mm
Cooking zone 2
Location of 2nd heating element
center left
Cooking zone 1
Energy consumption of heating element
190.2 Wh/kg
Type of heating element
Radiant heating
Power of heating element (W)
1.2 kW
Location of 1st heating element
front left
Dimension of 1st heating element (in)
6"
Size and Weight
Minimum distance from rear wall (in)
2
Minimum distance from counter front (in)
2 1/4
Net weight
20.000 lbs
Net weight
9.1 kg
Overall appliance dimensions (HxWxD) (in)
1/8"+ 4 1/3" x 23" x 20 1/5"
Dimensions
110 x 583 x 513 mm
Connectivity
Cooktop-based hood control
No
Home Connect
No
General
Energy consumption of hob
191.0 Wh/kg
Variant color
Black
Frame type
Standard design
Basic surface material
Ceramic
Power of the heating elements
1 x 2.0 KW, 1 x 2.2 KW, 2 x 1.2 KW
Dimensions of the heating elements
1 x 18,0 cm Ø, 1 x 21,0 cm Ø, 2 x 14,0 cm Ø
Total number of cooktop burners
4
Type of appliance width
60 cm
Self-sufficient cooker control
Self-sufficient electro hobs
Cooktop type
Radiant cooktop
Construction type
Color of frame
Stainless steel
Color of surface
Black, Stainless steel
Construction type
Built-in
Design - line
Frame
Number of electric elements
0
Number of electric cooking zones
4
Type of frame
Frame
Number of gas burners
0
Number of halogen elements
0
Installation Type
Built-in
Total number of cooktop burners
4
Number of radiant elements
4
Number of electric warming zones
0
Safety
Residual heat indicator
Separate
Connection
Frequency
60 Hz
Energy source
Electric
Power cord length
96 cm
Watts
6,600 W